Call, Text Or Request A Quote Now. (727) 520-2198
Pressure Washing Company Palm Harbor
Pressure Washing Service In Palm Harbor.
(727) 520-2198.
  Whether you need your driveway cleaned, or your whole house pressure washed, Driveways Plus does it all. We are a professional, residential  pressure washing company, located in beautiful Palm Harbor, Florida. Reliable and affordable, our pressure washing service is second to none.  A great job, at a fair price and customer satisfaction is our first priority. We specialize in driveway cleaning and have lots of happy customers in our service area. For pressure washing Palm Harbor, call the best. 
Includes; Pressure cleaning of sidewalks, walkways, entrance and street gutter.
Low pressure cleaning of pool decks & screen enclosures. No more green screens!
Your house will look fresh and new, with a low pressure house wash.
Driveways Plus offer gutter and downspout cleaning for our customers.
Paver Patios

Decks

Docks

Fences

Retaining Walls

Soffits & Trim

Patio Furniture

Mailboxes

Landscape Borders

Playsets
BEFORE AND AFTER PHOTOS OF OUR WORK 
What Our Customers Are Saying.
Thanks for the great job Ralph.

.
Mark M. From Tampa
Google Review
I was looking for a company to clean the driveway at my rental property in Oldsmar. I contacted Driveways plus, and it couldn't have been easier.  My tenant informed me that the job was done at the time he promised and the driveway looked great. I'll keep their number and use them again. Thanks Ralph. Great job!
Robert L. From Oldsmar
Google Review
I definitely recommend Ralph from DPPW! I found him online and called him for gutter cleaning in the past and it was a positive experience. I just called him out to my house again this year for the same service. As usual, he was on time (actually early), professional, and courteous. Ralph does a great job and I plan on continuing to utilize his services in the future. *He's also fully insured, which goes a long way in my book. Thanks, Ralph! Jon – Tampa
Jonathan D. From Carrollwood
Google Maps Review
Thank you Ralph for the great job you did cleaning our pool cage and pavers. Ralph also has been cleaning our gutters for several years and does a great job. Ralph is professional and gets the projects done around our house promptly.
Debbie C. From Safety Harbor
Facebook Review
I contacted Ralph on Saturday in reference to having my gutters cleaned at my house. He responded to my inquiry right away and provided me with a quote and scheduled me for the following Wednesday. I am extremely happy with the job he did and will recommend him to all my family and friends. His price was fair and the quality of the work was superb! I will definitely be using him again for future jobs at my home
Amy W. From Tarpon Springs
Facebook Review
So happy with the great job Ralph did on my pavers and driveway.I will definitely call him again !!! Many thanks for your fast service and great price.  
Alice S. From Town 'N' Country
Happy customer on Facebook
Excellent service we have had our fences, patio, sidewalk and drive pressured washed last year and this year. We always get a quick response, shows up when scheduled and does excellent work. Highly recommend. Julian & Amy E.
Amy E. From Westchase
Google Maps Review
This guy does awesome work, he knows his stuff and always does a quality job. Absolutely would hire again
Joey R. From Westchase
Happy Customer on Google
This company is outstanding! … Always exceeds my expectations every time I use them. Additionally, the value of service is exceptional. Responsive and responsible …. what a great combo in such an exceptional service company.
Ray A. From Westchase
Google Maps Review
He checked off all the boxes: 1) professional, 2) quick response time, 3) timely completion of the job, 3) reasonably priced, and 4) ethical and honest. I highly recommend Ralph and Driveways Plus Pressure Washing.    
Laura R. From Palm Harbor
Google Maps Review
 Great job! Fast service, excellent communication. Recommend highly. 
Hank A. From Holiday
Happy Customer on Google
Why Choose Us?
Professional And Experienced

 

Great Reviews

 

Insured

 

Pro Equipment and detergents

 

Accept Credit Cards And Checks

 

No Need To Be Home

 Flexible Scheduling

 

Email Invoicing

 

Member Angie's List

 

Member UAMCC

Properly Registered Business
can I get a free estimate?
You have made it to our website and are interested in our services. The next step is getting a free quote for the service you want. We have several ways to get a quote to you. 90% of the quotes we give, are over the phone, email or text. With the latest technology, we can go online and measure your driveway. get the square footage of your pool cage, even look at your gutters. This saves us time and saves you money. If we had to spend all day, going house to house, to give out free quotes, we would have to add that into the cost of all the jobs we do. The easiest way to get a quote from us, is to fill out the request form on our website. The request comes right to my phone and I usually respond within a couple of hours. Putting your address and the service you are interested in, makes it even faster.
how much does it cost?
Driveways Plus is a affordable exterior cleaning service. Our prices are not the cheapest, but we aren't over the top expensive either. We are in the middle, when compared to other companies in the area. Our prices are reflective of the cost of doing a legitimate business. Multiple insurance(s), advertising, taxes, etc all are factors in the prices we charge. We have the best equipment, to get the job done in an efficient and timely manner, we give quotes over the phone which saves time and money. All these factors go into our pricing. Florida is full of people offering power washing services, that are not legitimate and legally able to do this. Therefore they charge unbelievably cheap prices, just to basically make extra money. No overhead means they can do that. But you put your property at risk, hiring part time, under the table persons, is basically asking for trouble. A simple search at sunbiz.org is all you need to do, to find out if a company is legit or not.          
When Can you do it?
You have gotten a quote, and need to schedule. Most of the time, we can get to you within ten days of accepting the quote. It depends on the time of year. In the busy season it might be two weeks or so. A lot of people call for a quote and expect the job done, right after you get off the phone with them. Guess what? sometimes we can do that! If you need your driveway cleaned, because you got a letter from your HOA, we oftentimes manage to squeeze you into our schedule, on the same day. If we can't do it for logistical reasons, we will work with you to schedule as soon as possible. We try to be as accommodating as possible, as long as it doesn't conflict with our other customers scheduled time. 
What Driveways Plus Can Do For You.
Our goal is to provide the best pressure washing service possible. The number one aim of a pressure washing company is to clean your properties surfaces in a safe and effective manner, resulting in the best possible outcome. Dirt and grime are no match for Driveways Plus. With over twenty years experience in the pressure washing and exterior cleaning field, we are confident in our process and you will love the fantastic results.     
Driveway Cleaning.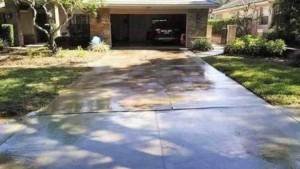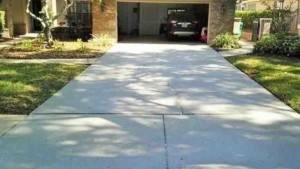 Professional equipment and cleaners means professional results.
Pressure washing driveways and sidewalks properly, requires a state of the art surface cleaner, commonly known as a scrubber, to achieve uniformity and a deep clean. No wand marks or stripes. Pressure cleaning a driveway with a wand, is like mowing your lawn with a weed whacker. Driveways Plus uses the very best pressure washing equipment available. We use all contractor grade cleaners and detergents, for a superior job. Let us clean and restore your concrete driveway, back to a new like condition.
Low pressure cleaning. Safe and effective on your home surfaces.
Approximately 90% of the power washing we do, is with low pressure, often about the same pressure as a garden hose. Most of the work is done with our specialized soaps and detergents. With several different nozzles, we can safely and effectively remove algae, mold, mildew and dirt from your homes delicate surfaces, leaving them fresh and clean, with a freshly painted appearance. When using the terms pressure cleaning, power washing or pressure washing, this includes low pressure too. Low pressure is used on house washes, pool cages, pool decks, fences an wood decks. The only pressure washing we actually do, is on concrete and brick.
Why Pressure washing Can Save You Money
Utilizing a pressure washer is a great way to to clean the surfaces on your property. The pressure can be adjusted to clean specific surfaces, ensuring a safe and damage free cleaning. Anybody can purchase a pressure washer and claim to be a professional. Pressure cleaning requires experience, knowledge of the chemicals it takes to get the job done properly, and ongoing training. Truth is, most of the pressure cleaning we do, can be done with a bucket and soft bristle brush, but that would be extremely inefficient. Pressure washing with high and low pressure, is efficient, safe and saves you money! You can do ten times more work in an hour, pressure washing, than you can with a bucket and brush.   
Mold, dirt and grime. Your homes enemies!
  The best way to keep your property mold free, is cleaning on a regular basis, using a chlorine based cleaner. Bleach is very effective at killing mold, mildew and algae. Driveways Plus uses a bleach based solution, with special soaps to kill and remove all contaminates on the surface being cleaned. Algae, mold and mildew can also damage they surfaces they are living on, by eating away at the paint and protective coatings on the surfaces of your home. We are specially trained in all aspects of removing those awful and ugly contaminants without damage to your home and landscape. Cleaning your home without using some sort of algaecide or mildewcide such as bleach is basically a waste of time. Pressure washing with plain water sounds nice, but all that is being done is, algae, mold and mildew is being spread all around, ready to grow back almost immediately.