If you are looking for an affordable, quality conscious, residential pressure washing company in Oldsmar, Florida. you've come to the right place. Driveways Plus is a driveway and sidewalk cleaning specialist, and we can make your concrete clean and bright and looking great. We also are experts in cleaning your entire pool area. Our special cleaning solutions sanitize and remove algae, mold and mildew on your pool deck and pool screens. Call us now for pressure washing and all of your exterior cleaning needs in Oldsmar.

How to contact us
For Pressure washing Oldsmar, you can call, text or fill out a request form, anytime for a free, no- hassle quote. In most cases a quote can be given right over the phone. We use online technology to look at your property and can measure your driveway or look at your pool deck and cage from the sky! Call or text anytime and we will respond ASAP.
Pro Equipment-Pro Results
When you choose Driveways Plus Pressure Washing LLC as your pressure cleaning service, you can be sure the job will be done in a professional manner with professional equipment and contractor detergents.We use state of the art surface cleaners for the best driveway and sidewalk cleaning job possible. We also have various  low pressure attachments that we use on the surfaces on your property, to ensure no damage to anything we are cleaning. The results are spectacular!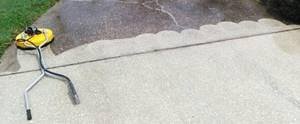 What are customers are saying.
Thanks for the great job Ralph.

.
Mark M. From Tampa
Google Review
I was looking for a company to clean the driveway at my rental property in Oldsmar. I contacted Driveways plus, and it couldn't have been easier.  My tenant informed me that the job was done at the time he promised and the driveway looked great. I'll keep their number and use them again. Thanks Ralph. Great job!
Robert L. From Oldsmar
Google Review
I definitely recommend Ralph from DPPW! I found him online and called him for gutter cleaning in the past and it was a positive experience. I just called him out to my house again this year for the same service. As usual, he was on time (actually early), professional, and courteous. Ralph does a great job and I plan on continuing to utilize his services in the future. *He's also fully insured, which goes a long way in my book. Thanks, Ralph! Jon – Tampa
Jonathan D. From Carrollwood
Google Maps Review
Thank you Ralph for the great job you did cleaning our pool cage and pavers. Ralph also has been cleaning our gutters for several years and does a great job. Ralph is professional and gets the projects done around our house promptly.
Debbie C. From Safety Harbor
Facebook Review
I contacted Ralph on Saturday in reference to having my gutters cleaned at my house. He responded to my inquiry right away and provided me with a quote and scheduled me for the following Wednesday. I am extremely happy with the job he did and will recommend him to all my family and friends. His price was fair and the quality of the work was superb! I will definitely be using him again for future jobs at my home
Amy W. From Tarpon Springs
Facebook Review
So happy with the great job Ralph did on my pavers and driveway.I will definitely call him again !!! Many thanks for your fast service and great price.  
Alice S. From Town 'N' Country
Happy customer on Facebook
Excellent service we have had our fences, patio, sidewalk and drive pressured washed last year and this year. We always get a quick response, shows up when scheduled and does excellent work. Highly recommend. Julian & Amy E.
Amy E. From Westchase
Google Maps Review
This guy does awesome work, he knows his stuff and always does a quality job. Absolutely would hire again
Joey R. From Westchase
Happy Customer on Google
This company is outstanding! … Always exceeds my expectations every time I use them. Additionally, the value of service is exceptional. Responsive and responsible …. what a great combo in such an exceptional service company.
Ray A. From Westchase
Google Maps Review
He checked off all the boxes: 1) professional, 2) quick response time, 3) timely completion of the job, 3) reasonably priced, and 4) ethical and honest. I highly recommend Ralph and Driveways Plus Pressure Washing.    
Laura R. From Palm Harbor
Google Maps Review
 Great job! Fast service, excellent communication. Recommend highly. 
Hank A. From Holiday
Happy Customer on Google
Why Choose Driveways Plus?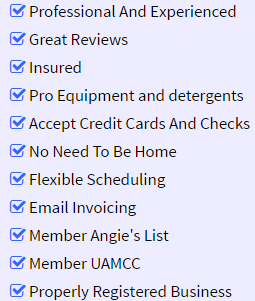 Cleaning up Oldsmar, one driveway at a time.
Driveways Plus Pressure Washing LLC,  does extensive work in all the developments in Oldsmar.  As a matter of fact, we usually dedicate a whole day a week, pressure cleaning on properties in Eastlake Woodlands , with almost 3800 residents. We have 100's of happy clients in the East lake corridor, which includes East Lake Woodlands in Oldsmar, Lansbrook and Ridgemoor  in Palm Harbor. For pressure cleaning in Oldsmar and surrounding areas, call Driveways Plus.     
Pressure washing a driveway in Eastlake Woodlands Oldsmar
Here is a driveway we cleaned for a repeat customer in Oldsmar.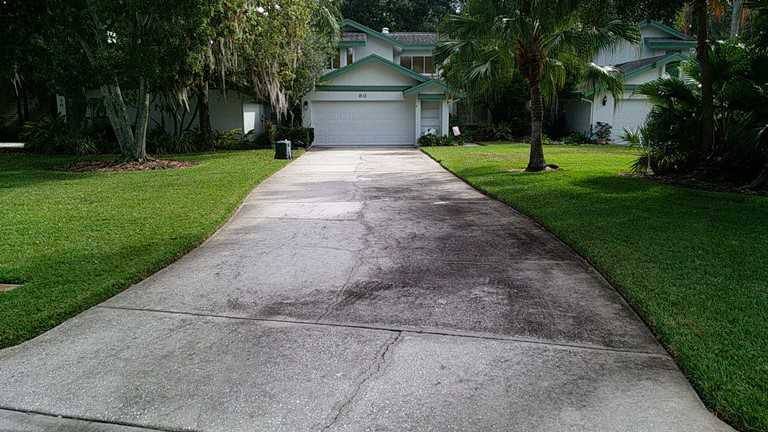 Pool deck cleaning for new homeowners, before and afters.
Here is a pool deck we cleaned in Oldsmar using low pressure.
Pressure washing vs soft washing. What is the difference?
In our area the term pressure washing and power washing are used interchangeably, but they are not the same thing. Pressure washing is the use of a high pressure apparatus, to clean accumulated dirt and grime off of a surface. Power washing is the use of a hot water machine. Recently a new term has been introduced to the lexicon. That is "Soft Washing".  Soft washing is the use of specialized chemicals and a specific dwell time, or time to let the chemicals work, along with a low pressure rinsing. Driveways Plus uses this technique on about 75% of the surfaces we clean. We use the soft washing  technique on houses, pool decks and enclosures. Concrete and bricks, including paver bricks are when we use the higher pressure.  Driveways Plus is well versed in all aspects of pressure cleaning and will utilize the best technique for the surfaces being cleaned.